What Kind of Jewelry to Wear With a Black Dress?
Every woman should have a little black dress in her dressing room, as it is suitable for any occasion and can be easily combined with accessories or jewelry. When it comes to choosing jewelry and accessories for your black dress, there are many things to be careful about to make the right choice. Mademoiselle Grenade wishes above all that you are fabulous and sensational, that is why she gives you her advice on which jewelry to wear with a black dress.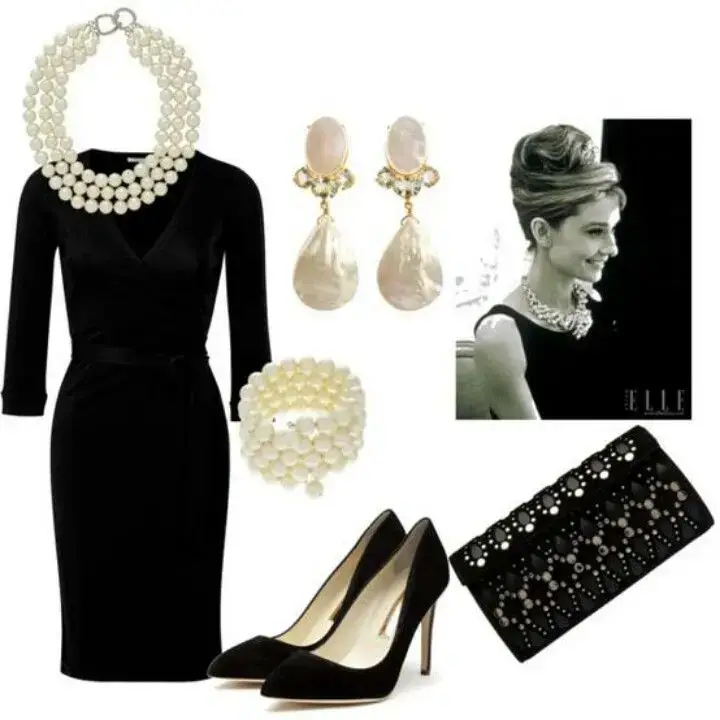 What color jewelry to wear with a black dress?
As they usually say: with a little black dress, everything goes! Your imagination can let itself go when it comes to color as if your black dress was a white canvas ready to be painted.
However, there are a few tricks you could use to be absolutely perfect.
Gold and silver jewelry will make a black dress more sophisticated and expensive. You can also combine jewelry of other colors to achieve this effect, such as black or turquoise blue for example.
If you want to convey a more daring and modern image, a mix of colors will make you stand out from your surroundings. Look for bright colors such as red, light blue, emerald, yellow or orange.


Which Necklace for Which of Neckline?
Another important factor to consider is the neckline offered by your black dress. Long collars, such as necklaces, will go perfectly with turtleneck dresses or black dresses tied behind the neck. The longer and thinner the necklace, the prettier you will look.
On the other hand, necklines and boat necklines will go better with thicker and more imposing jewelry. For black dresses with V-neck necklines, we recommend a medium-sized, patterned necklace or pendant to enhance the shape of the neckline.
For strapless dresses, you can opt for an imposing, rounded necklace. This will give a special touch to your bust.


What Earrings, Rings and Bracelets to Wear With a Black Dress?

Once you've found the perfect necklace, don't forget to accessorize the rest of your outfit. Here are some tips on how to get the best set and accessorize your little black dress to look absolutely gorgeous.
First of all, don't overdo it and learn how to balance your outfit.
So, rule n°1, choose only one impressive piece of jewelry. Choose one piece, such as a ring, an assortment of bracelets or dazzling earrings, and opt for something more discreet for the rest of your set.
This way you'll look chic and casual, without effort or overdoing it. If you've opted for drooping earrings, then don't wear a necklace that will overdo it and make your face look longer. It may sound odd, but choosing your outfit doesn't just depend on a color combination. It also depends on the material used.
Make sure that all your jewelry is of equivalent quality and combines perfectly. If you really want to assert your identity, add a tiara or a tiara for a bohemian-chic look.


Black dress: The right jewelry set for the occasion
Of course, depending on the occasion, you will not wear the same jewelry set with your little black dress. Take a moment to read these few tips, so you will always be at your place:


For a formal event, we recommend a classic and elegant pearl set, like Audrey Hepburn. You can also opt for a fine set that will allow you to be more discreet, without attracting attention.
For a night out, dare to wear bling-bling, shiny pieces, even diamonds. Your little black dress is elegant but will lack nuances in the darkness of the night. So a little shine will really make a difference.
For a more traditional and relaxed moment, choose colors in ochre tones, more sober and discreet.
At work, fine and discreet jewelry will be welcome. It is never good to be too remarkable and exuberant.
For a relaxing and restful outing, opt for something more playful, add color to your black dress and combine more imposing jewelry so that all eyes turn to you.
And remember what Karl Lagerfeld once said: "One is never over-dressed or underdressed with a Little Black Dress."